Public inquiry under way over Newhaven beach dispute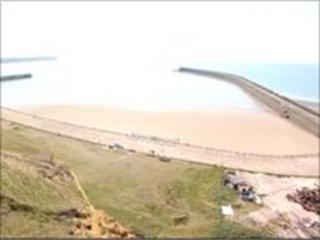 A public inquiry is under way which will decide whether residents and visitors in a south coast town will be allowed back on the beach.
The owner of Newhaven beach, Newhaven Port and Properties (NPP), closed it in 2008 because of safety concerns.
The town council has applied to East Sussex County Council to reclassify the area, used by locals for 100 years, as a village green.
The three-day inquiry is being held at Meeching Hall in Fort Road, Newhaven.
The West Beach was closed two years ago because part of a wall became unsafe.
French-owned NPP said in a statement the beach had been declared by the Health and Safety Executive to be part of the working area of the port.
It did not meet current health and safety standards for the admission of the public.
"If the application for village green status is granted, the implications on the Newhaven Port regeneration project would be profound," it said.
"Future economic growth and hundreds of jobs that are so badly needed for the town of Newhaven (would be) put in jeopardy."
It has said previously that, rather than develop the port with the beach in use, it would prefer to move the ferry terminal elsewhere.
'Differing views'
Carla Butler, councillor for Newhaven Town Council, said she did not believe NPP would pull out of the town.
"It is not in their interests," she said.
"It is either viable as a port or it is not. What has that got to do with the beach?
She said the town council believed the port development and the use of the beach by the public could go together.
"We have got differing views as to how the economy can be improved," she said.
"The closure of the beach has had a huge effect on the economy of Newhaven - the pub trade and the town centre."