Bus driver shoots Cairo workers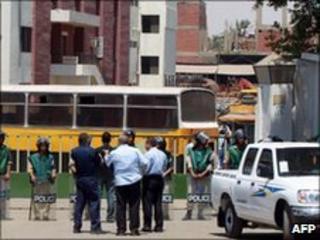 An Egyptian bus driver has shot dead six construction workers travelling in his vehicle, security officials say.
They said the driver was taking the employees to a site near Cairo when he stopped the company bus, turned round and opened fire, also wounding six others.
The gunman was arrested. The motive for the attack remains unclear.
The BBC's Jon Leyne in Cairo says first indications are the attack was probably not politically motivated.
Some reports suggested the driver was depressed after being transferred to a new position.
The driver worked for a company called Arab Contractors, one of Egypt's biggest building firms.
The company said he was taking 22 labourers and other employees to its site near Cairo when he stopped the vehicle.
"The passengers were shocked to see driver Mahmud Taha Ahmad Sueilem, 54, pull out an automatic weapon from under his seat and start firing indiscriminately on the passengers," it said in a statement quoted by AFP news agency.
Six other employees were injured, the provincial governor said. Earlier reports said 16 people had been wounded.
A security source cited by Reuters news agency said female passengers on the bus were not shot, adding that the victims included a finance manager and a department head.