Hayabusa capsule particles may be from asteroid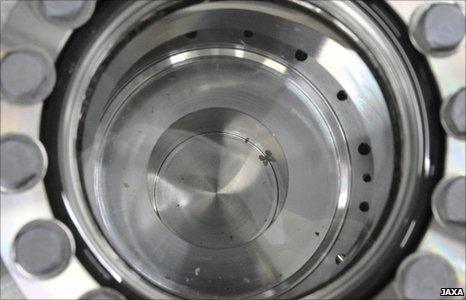 A canister recovered from the first spacecraft to land on an asteroid and return to Earth, contains dust particles, say Japanese scientists.
Japan's space agency (Jaxa) began to open the Hayabusa craft's sample container on 24 June.
It has now revealed images of tiny dust particles inside the container.
Whether the particles are from the near-Earth asteroid, Itokawa, or from Earth is still unknown.
Jaxa released two photographs of the inside of the Hayabusa sample container.
The first, taken on 28 June, shows clearly visible grey and white particles. The second photograph, taken on 29 June, shows a magnified view of a minute particle being picked up by a quartz manipulator, which appears as a stripe on the image.
The researchers hope this microscopic dust could have come from the asteroid.
But it is likely to take several weeks of analysis to reach any firm conclusion about its source.
This is the latest instalment in a seven-year adventure, which saw Hayabusa visit Itokawa in 2005 and attempt to pluck dust from its surface before returning home.
The $200m mission encountered many technical problems, from being hit by a solar flare to experiencing propulsion glitches.
But the Japanese project team kept the craft alive and successfully returned it to Earth - albeit three years late.
Professor Trevor Ireland, associate director for Earth chemistry at The Australian National University in Canberra said that there was "a good prospect of isolating asteroid grains".
"It's very encouraging that the chamber does not look contaminated and... I'm certainly looking forward to all that these grains can tell us about asteroid Itokawa."
Analysis has shown the Hayabusa spacecraft's capture mechanism malfunctioned at the moment it was supposed to pick up the asteroid rock fragments.
But Jaxa officials are still confident of success.
They say a lot of dust would have been kicked up when Hayabusa landed on the space rock to make the grab, and some of this material must have found its way inside the probe.
Related Internet Links
The BBC is not responsible for the content of external sites.