UK new car sales rise 10.8% in June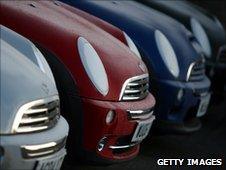 UK new car sales rose 10.8% in June compared with the same month last year, industry figures have shown, despite the end of the scrappage scheme.
The Society of Motor Manufacturers and Traders (SMMT) said 195,226 new cars were sold in June, adding that the performance was "above expectations".
June registrations were boosted by a rise of more than 25% in fleet sales.
In the six months from January to June, there were 1,208,662 new registrations, a 19.9% rise on the first half of 2009.
June last year was the first full month when new car buyers could take advantage of the scrappage incentive.
The scheme, which offered new buyers a £2,000 discount if they scrapped a car that was more than 10 years old, started on 18 May 2009 and came to an end on 31 March 2010.
SMMT chief executive Paul Everitt said the figures came as a pleasant surprise.
"Like many, we were anticipating that this would be a difficult month because of the end of the scrappage scheme," he said.
Private sales in June were 3.3% lower than last year.
In addition to the rise seen in the fleet market, the business sector also enjoyed an 18.4% increase in sales.
Mr Everitt added that there were a couple of "unique" factors influencing the rise in these sectors.
"There is some inventory building going on. During the depths of the recession most companies cut back quite a lot on inventory so we're seeing some impact there," he said.
"But also, this time last year there was such a big rush in scrappage scheme vehicles and private vehicles being sold that that crowded out some of the fleet market."
Mr Everitt was wary, though, of what the remainder of the year would hold for the car industry.
"I think the next six months are still going to be a very tough time for us. We would expect to see some dip following a buoyant first half of the year," he said.
But he added: "Perversely the increase in VAT that is scheduled for the beginning of January 2011 may actually give us a bit of stimulus towards the end of the year as people try to avoid that increase in cost."
The standard rate of VAT will rise from 17.5% to 20% from 4 January next year.
Related Internet Links
The BBC is not responsible for the content of external sites.