Cuba: Key players in the dissident movement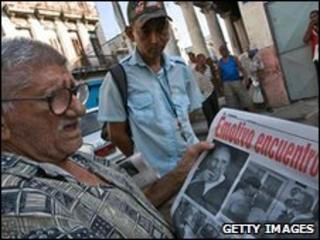 Dozens of women opposition activists in Cuba have been detained by police on their way to Sunday Mass, just over a week before Pope Benedict XVI arrives on the island.
The dissidents want the Pope to press Cuba's communist government on issues such as the release of political prisoners and an end to repression.
The Catholic Church in Cuba has acted as a mediator between dissidents and the government, successfully negotiating the release of 75 political prisoners over the past years.
There has been ongoing international concern about the situation of dissidents in Cuba.
The Cuban government has accused opposition activists of trying to cause disorder to justify aggression by the US.
Cuba denies there are any political prisoners on the island, calling them mercenaries paid by the US to undermine the communist system.
"The laws are so vague that almost any act of dissent can be deemed criminal in some way, making it very difficult for activists to speak out against the government," said Kerrie Howard, deputy Americas director at Amnesty International.
Here are some of the main figures in the Cuban dissident movement:
Hunger strikers
The plight of dissidents was thrust into the international spotlight in February 2010 when political prisoner Orlando Zapata Tamayo died after a long hunger strike.
It was the first time in nearly 40 years that a Cuban activist had starved himself to death to protest against government abuses.
Another hunger striker, Guillermo Farinas, gained international attention in 2010 when he came close to death after staging a 134-day hunger strike, as part of a campaign to release of the most seriously ill prisoners, and was fed intravenously.
He ended the protest in July 2010, when Cuban President Raul Castro authorised the release of 52 of the island's most prominent prisoners of conscience.
The EU awarded Mr Farinas its Sakharov Prize for Freedom of Thought from the European Parliament in December 2010, although he was not allowed to leave Cuba to collect the award.
Mr Farinas, a doctor of psychology and journalist, has spent more than 11 years in prison for a variety of offences and has staged dozens of hunger strikes.
Elizardo Sanchez
One of the best known Cuban dissidents and one of the few with any kind of public profile inside Cuba.
He was one of the 75 activists rounded up and arrested in 2003, during what became known as the Black Spring.
He now runs the Cuban Human Rights and National Reconciliation Commission, which is technically illegal but is tolerated by the Cuban government.
Mr Sanchez says harassment and intimidation are now replacing long prison sentences.
However, he says there were 802 cases where people were briefly arrested and detained before being released.
Ladies in White
The Ladies in White (Damas de Blanco) are perhaps the most visible group of dissidents in Cuba. They are the wives and mothers of political prisoners.
Each Sunday after Mass, they march through the centre of Havana, calling for their sons and husbands to be released.
They started their protests in 2003 during the Black Spring.
In 2005, they received the Sakharov Prize for Freedom of Thought from the European Parliament.
In late April 2010, their protests were broken up by groups of pro-government supporters, who pushed the women off the street and shouted insults at them. But in June of that year, the government agreed to stop harassing the Ladies in White during their weekly march.
The 75 prisoners arrested during the Black Spring have all since been released under a deal brokered by the Roman Catholic Church, and some have gone into exile in Spain.
But the Ladies in White have continued to campaign for the release of around 50 other prisoners convicted of violent crimes such as hijacking which they say are political.
In March 2012, police arrested dozens of opposition activists, mostly members of the Ladies in White, a week ahead of the visit by Pope Benedict XVI.
Yoani Sanchez
The blogger Yoani Sanchez, 34, is not a dissident in the traditional sense.
Her blog, Generation Y, has become a trusted source for news on Cuba, with the site receiving 14 million hits a month.
In 2009, she received a journalism prize from Columbia University in New York, but was barred from travelling to accept it.
Liliet Heredero of BBC Mundo - the BBC's Spanish service for Latin America - who has met Ms Sanchez, says the blogger has been harassed by police.
She was once jailed for organising a conference on blogging, our correspondent says, and police will not allow her to attend concerts by performers known to be critical of the government.
Last month, Ms Sanchez said she had again been denied permission to leave Cuba, adding it was the 19th time the government had turned down her request to be allowed to travel abroad.
Cubans must obtain the government's permission to leave the country and have to go through an elaborate process to get it.
Raul Rivero
The man who became known as the poet of the dissident movement now lives in exile in Madrid.
Raul Rivero was one of the 75 activists arrested in 2003. He was sentenced to 20 years in jail but was released in November 2004.
While he was in prison, he was allowed to write only love poems.
During that time, the UN cultural organisation Unesco awarded him its World Press Freedom prize.
The Catholic Church
Although not a traditional dissident voice, the Roman Catholic Church is becoming something of an alternative power structure, says Liliet Heredero of BBC Mundo.
Until the 1990s, it was illegal for members of the governing Communist Party to go to church.
Once that restriction was lifted, Church leaders began to speak out. When Pope John Paul II visited Cuba in 1998, he said freedom of conscience was "the basis and foundation of all other human rights".
In April 2010, Cardinal Jaime Ortega urged the Cuban government to free all political prisoners.
The 73-year-old prelate said that people were openly talking about the deficiencies in Cuba's socialist system, calling it a Stalinist-style bureaucracy which produced apathetic workers and low productivity.