Llanelli soldier's body arrives home to the UK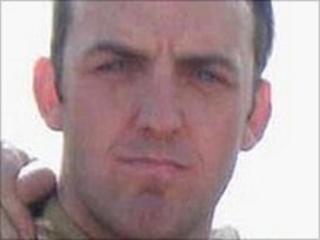 The family of an army bomb disposal expert killed in Afghanistan paid their respects as he was repatriated in the UK.
The wife and relatives of Corporal Jamie Kirkpatrick, 32, from Llanelli, Carmarthenshire, attended a private ceremony in RAF Lyneham in Wiltshire.
Cpl Kirkpatrick, of 101 Engineer Regiment, was the 20th serviceman to die in June in Afghanistan.
He died in a fight with insurgents in Helmand province on 27 June.
Cpl Kirkpatrick, who was born in Edinburgh and was known to his friends as KP, leaves his wife Heidi and their 16-month-old daughter Holly.
A hearse carrying his Union Jack-draped coffin passed through the market town of Wootton Bassett, as 200 mourners lined the streets.
His widow, who broke with tradition to wear a bright pink dress, wept as she placed a single rose on the hearse.
She was comforted by Gavin John, who was the best man at their wedding.
Paying tribute to his friend, he said: "Jamie was a fantastic guy, fun-loving, always the life of the party and he will be sorely missed by his friends and family gathered here today.
"He was just a legend."
In a statement Cpl Kirkpatrick's family said: "Jamie was a larger than life individual who was loved, loyal and loud. A wonderful son.
"He was a proud soldier, friend, brother, husband and daddy.
"The family are devastated by their loss and are struggling to come to terms with the fact they will never see him again."
Billy White, of the Royal School of Military Engineering, where Cpl Kirkpatrick was a corporal instructor based in Chatham, said: "He was full of life, full of beans, the natural joker of the crew, a very professional guy, rugby player and he stood out in a crowd, full of fun.
"Just a brilliant instructor and a good guy all round.
"Someone you can have a giggle and a laugh with and who would always find the fun in the strangest of situations."
The body of a Royal Marine understood to be a member of the Special Boat Service (SBS) was also repatriated.
However, no images of his repatriation at RAF Lyneham were released, and he has not been named at the request of his family.
He died in southern Afghanistan on Thursday.
Wootton Bassett has become the focus for the nation to mourn the deaths of troops in Iraq and Afghanistan.
Respectful crowds always line the routes to honour the procession as it passes.
A total of 311 British servicemen and women have died since the start of operations in Afghanistan in 2001.The family of an army bomb disposal expert killed in Afghanistan paid their respects as he was repatriated in the UK.