Ryanair-Aer Lingus bid blocked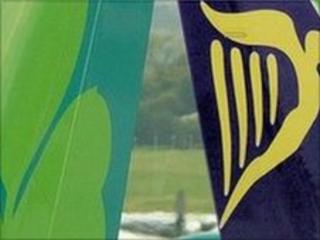 The European Court of Justice has ruled that Ryanair's bid for rival Irish airline Aer Lingus should be blocked.
On Tuesday the court ruled that Ryanair could keep its 29.9% stake.
The European Commission, which rarely blocks takeovers, refused to allow Ryanair's hostile £1.48bn bid, and said it would create a monopoly for flights from Dublin airport.
Aer Lingus had wanted Ryanair to be forced to offload its shares in the company.
Ryanair acquired a partial stake in Aer Lingus after its privatisation in 2006, then notified the European Commission that it was seeking a takeover.
In 2007 the European Commission declared the takeover bid was incompatible with EU competition rules.
Ryanair challenged that decision and in the meantime brought its shareholding up to 29.9%.
Ryanair chief executive Michael O'Leary said the ruling would not prevent the low-cost carrier from making a future offer for Aer Lingus.
He acknowledged a further bid would have to take account of the court's detailed ruling.
"Ryanair has no immediate plans to make a third offer for Aer Lingus, which in any event would be unlikely to succeed unless the Irish government decides to sell its 25% stake."