Denton funeral for Afghan blast death soldier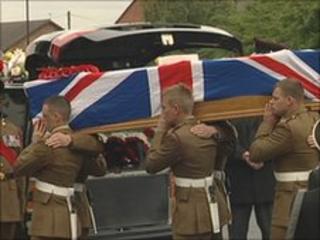 Hundreds of mourners gathered for the funeral of a British soldier killed in a roadside blast in Afghanistan.
L/Cpl Andrew Breeze, 31, of Gorton, Manchester, died while on patrol in the Nahr-e Saraj district of Helmand province on 12 June.
Known as "Breezy" or "Windy" to his friends and colleagues, the soldier was part of 1st Battalion The Mercian Regiment (Cheshire).
He was laid to rest following a service at Christ Church in Denton.
Members of the public and regiment veterans lined the street outside the church ahead of the service.
L/Cpl Breeze's coffin, draped in a union jack, was carried into the church by Army colleagues.
Speaking outside, his friend Stuart Massey said: "There'll just be massive void because I don't think there are any words that can explain how much he is going to be missed.
"It's just a sad occasion, a very sad occasion."
The soldier, who was working to clear an area near a checkpoint when he died, had served in Northern Ireland and Iraq, as well as Afghanistan.
Major Ronnie Goodwin, of 1 Mercian Regiment, "He was a legend within the regiment and everybody knew L/Cpl Andrew Breeze, known to his friends as Breezy or Windy.
"He's going to be missed by everybody throughout the whole regiment.
"He was a very brave non-commissioned junior officer and before he died he was involved with the extraction of a casualty under enemy fire, so there is a mark of the type of man he was."
L/Cpl Breeze, who joined the Army aged 17, was engaged to his girlfriend, Lorraine Walker.
In a statement released after his death, his family said they were very proud of a "brave, loving and sincere son and brother".
"He served for 14 years in the Armed Forces and was recognised as an excellent soldier. The Army was his life.
"He is going to be desperately missed by his family and his fiancee."