Spanish minister to push Cuba for release of dissents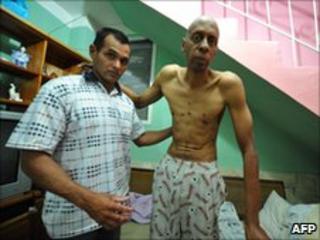 Spain's foreign minister is in Havana and is expected to press the Cuban government to free jailed dissidents.
Miguel Angel Moratinos is scheduled to meet his Cuban counterpart, Bruno Rodriguez Parilla, on Tuesday.
Mr Moratinos also plans to meet the head of the Catholic Church in Cuba, Cardinal Jaime Ortega.
According to an unofficial rights group, the number of political prisoners has recently dropped, but the harassment of dissidents has increased.
The Cuban Human Rights Commission said that another 800 people had been detained this year, and then released without charge.
The dissident Guillermo Farinas has been on hunger strike since February to highlight his demand that political prisoners in poor health be freed.
Mr Farinas is now in hospital, and doctors say his life is in danger.
'Mercenaries'
Mr Moratinos said he wanted to support the Catholic Church in Cuba in its efforts to push for the release of detained dissidents.
The Church has become an important mediator in recent months and won concessions from the government over the treatment of the activists.
Spanish diplomats hope that Mr Moratinos's visit will lead to a gradual release of dissidents, and that those in poor health will be freed first.
Cuba denies there are political prisoners on the island, saying jailed dissidents are common criminals or "mercenaries" working for the US.
But the BBC correspondent in Havana says that President Raul Castro has been upset by international criticism following the death in February of another jailed dissident on hunger strike, Orlando Zapata Tamayo.