Offenders repaint Brighton seafront railings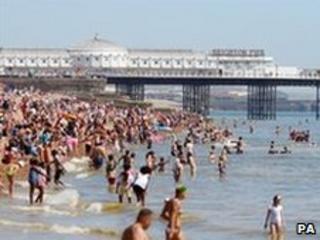 Offenders supervised by Surrey and Sussex probation officers are repainting Brighton's seafront railings for the start of the summer holidays.
It is the third time that offenders have been used to spruce up the area.
Work is being carried out over the next two weeks to touch up rust spots caused by winter weather.
The work is taking place under a Community Payback scheme which allows offenders to make amends to the community for harm they have caused.
Surrey and Sussex Probation Trust director of interventions Arthur Wing said: "This is the third time offenders have been used to paint the seafront railings.
"It's great that they are able to make amends for their crimes in such a highly-visible and positive way - making the city look better in time for another busy tourist season."
Brighton council leader Mary Mears said: "We're having a big push so the railings are looking good in time for the start of the school summer holidays."
She said the city was receiving "tremendous support" from the probation service which was providing a workforce for two weeks to help the city look its best.
The operation, which started on Monday, involves 88 people including council workers.