Michael Moore makes election clash pledge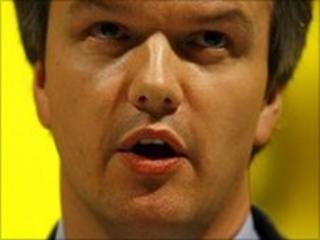 The Scottish secretary has promised to "engage" with the Scottish government over the 2015 election timetable.
Elections to both the House of Commons and the Scottish Parliament are due to be held on 7 May 2015.
Scottish Secretary Michael Moore has written to the SNP administration at Holyrood and the Scottish Parliament suggesting ways to avoid the clash.
First Minister Alex Salmond said it made "perfect sense" to try to avoid a clash of dates.
There has been criticism of the election clash, which is the result of proposals for fixed five year-term Westminster parliaments.
Mr Moore said he "recognises the concern that exists" and will "engage" with interested parties.
Fixed terms
Although the Scottish secretary does not specify in his letter that the Scottish election date should be changed, BBC Scotland understands UK ministers believe this should happen.
Holyrood has fixed parliamentary terms, and the date has been set for some time.
But the decision to hold a general election on the same day was part of the recent coalition agreement in which the Tories and Lib Dems formed a government at Westminster.
On Monday, Deputy PM Nick Clegg came under fire for planning a referendum on changes to the voting system on the day of elections in Scotland, Wales and Northern Ireland.
He wants the vote on switching from first-past-the-post on 5 May 2011.
Mr Salmond said that by conceding the concerns over 2015, Mr Moore should realise that having a referendum on a new voting system on the same day as next year's Holyrood elections was equally "unworkable".
A spokesman for the first minister said that the Scottish government would make it clear to the UK government that it opposed the Scottish elections being held on the same day as any other election or vote.
The Scotland Office said the 2011 and 2015 elections were "separate matters".