Two children die in house fire in Bradford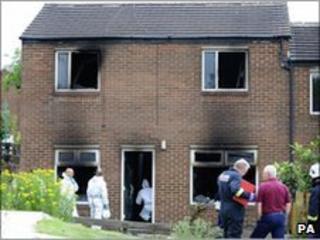 Two children have died and their mother is in a critical condition after a house fire in Bradford.
Fire crews were called to the house in Hendford Drive in the Pollard Park area of the city at about 0045 BST on Tuesday.
Police confirmed a 10-year-old girl died at the scene and an eight-year-old boy died shortly after arriving at hospital.
A 21-year-old man has been arrested and remains in police custody.
Police said the 30-year-old woman was receiving treatment at Pinderfields Hospital after suffering potentially life-threatening injuries.
She was initially taken to Bradford Royal Infirmary before being transferred.
Shajah Rehman, a neighbour of the family, said he was woken by people screaming and shouting as the family's two-storey end-of-terrace house was engulfed by flames.
He said: "I went outside and saw the house on fire.
"The mother was outside and her face was covered in black smoke - she was in agony and screaming for the kids."
Fazal Mohammed, 19, described how he tried to smash his way into the house after finding the mother in flames outside.
Covered in flames
Mr Mohammed said: "I heard some woman screaming. I came outside the house to see a woman on fire.
"She had flames all over herself. I just rolled her on the ground but she was saying, 'My kids are inside, my kids are inside'.
"I went to smash the windows but I couldn't get in. There were too many flames."
Mr Mohammed, who lives a few doors away, said he had seen the children playing out the evening before.
He added: "It's really upsetting. They're a good family."
Mr Mohammed said there had been a number of fires in the area in recent weeks, but mainly in the many derelict and empty properties on the estate.
Another neighbour, Iron Miah, described how he tried to get through the front door.
He said: "I tried to break the door. I tried, but I couldn't break it down.
"It was a bad, bad fire. It was too hot."
Zaiwab Maqsood, 17, described how the two children were playing in her garden on Monday.
She described them as "respectful". She said: "They would ask my mum if she wanted help with her bags when she's been shopping."
Clothes burnt
Miss Maqsood said the family had lived in the house for about five years after moving from a short distance away.
She described the scene outside the back of her house as the children's uncle and Mr Mohammed tried to break into the burning property.
She said it was her mother who was the first to wake up and raise the alarm.
The family went out to see their neighbour burning in her garden, which backs on to their house.
Miss Maqsood said she wrapped her in a towel because her clothes had been burnt.
She said: "But she was screaming, 'Just save my kids, just save my kids'. She just kept screaming and screaming it over and over again."
"Everyone from every house was out carrying buckets and trying to help," she said.
Station manager Chris Clarke, who leads the West Yorkshire fire investigation team, said neighbours performed heroics trying to get into the house.
But he said even fully-equipped firefighters were "on the edge" because it was an extremely severe fire.
He said firefighters wearing breathing apparatus managed to battle their way up the stairs and pass the boy out of a bedroom window.
Cans of petrol
He could not say at this stage where the girl's body was found.
The house, along with other nearby properties, was cordoned off by police.
Police and West Yorkshire Fire and Rescue Service have started a joint investigation and detectives are appealing for any information about the fire.
They said they wanted to get in touch with anyone who may have bought small amounts in petrol in cans in the area on either Monday evening or in the early hours of Tuesday.