MoD unit at Plymouth hospital in sea training exercise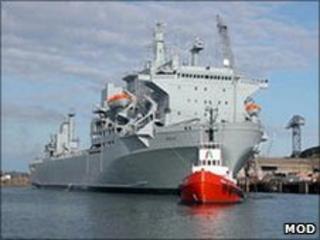 Forty staff from the MoD medical unit at Plymouth's Derriford Hospital are taking part in sea training exercises.
The five-day session, which finishes on Friday, is to help Royal Navy staff familiarise themselves with new medical kit on Royal Fleet Auxiliary Argus.
The Devon crew are among 180 navy staff on the hospital ship which has had a £37m refit by A&P Falmouth in Cornwall.
The training, conducted off Portland, involves medical scenarios and ship emergencies like fires and floods.
RFA Argus is an aviation support ship, but is also classed as a Primary Casualty Receiving Facility (PCRF).
When operating in a PCRF role, its crew includes doctors, nurses, medical assistants and Royal Marine bandsmen who act as stretcher bearers and casualty handlers.
The ship's hospital facility has four operating theatre tables, 10 intensive care beds, 20 high dependency beds and 70 general ward beds as well as a range of clinical support services such as pathology, pharmacy and physiotherapy.
Captain Paul Kehoe, Commanding Officer on RFA Argus, said: ''We are proud to be the Royal Navy's primary casualty receiving ship and this exercise will reinforce the enhanced capability of this unique facility.''