Newspaper review: Police hunt given wide coverage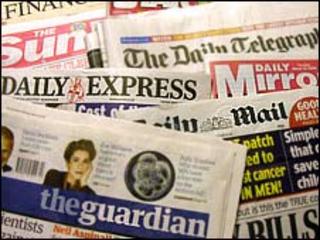 The police hunt for suspected gunman, Raoul Moat, gets wide coverage.
The Sun has extracts of his 49-page, handwritten letter to police which it says the fugitive delivered to a friend to pass on to police and media.
The Daily Mail publishes a picture of PC David Rathband, who was shot in the face and chest. It says he asked for it to be released to help find Moat.
The Guardian, meanwhile, claims Northumbria Police arrested two men, mistakenly believing they were Moat.
'Fat cats'
The Times greets the publication of the BBC's annual report with the headline: "More staff, more money for bosses and more of the same tired old shows".
The Daily Telegraph questions why the BBC is not making the kind of savings required of government departments.
It says taking 25% out of the BBC's budget would concentrate the minds of its generously rewarded executives.
The Daily Express, meanwhile, says BBC "fat cats" were paid £4.7m in licence fee payers' cash last year.
Pier opening
A survey suggesting 69 people on average apply for every graduate job makes the lead for the Independent.
It warns of the danger of "creating a wasted and jaded generation".
The Daily Mail, meanwhile, examines Nick Clegg's voting reform plans, saying the British constitution is now on a journey into uncharted waters.
The Guardian reports on the re-opening of the Grand Pier at Weston-super-Mare after it was burned two years ago. It says 300 jobs are being created.
Big Bang
Several papers publish a satellite picture of the heavens showing our own galaxy, the Milky Way, as a streak of white light running across the middle.
The Times says the picture will help astronomers explain the earliest moments after the Big Bang.
For the Independent, it is the universe as we have never seen it before.
And the Daily Mirror leads on news that singer and X-Factor judge Cheryl Cole was taken to a hospital in Tanzania after catching malaria.