Car focus of search for Gateshead shooting suspect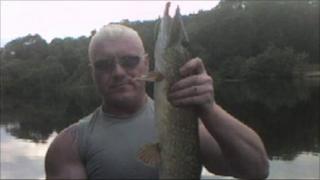 Police searching for suspected gunman Raoul Moat have released details of a car they are looking for.
Northumbria Police said the black Lexus IS200 SE with number plate V322 HKX belongs to one of Moat's friends.
Moat, 37, is believed to have shot his ex-girlfriend, killed her new partner and shot a police officer on Tyneside.
Police are also investigating an armed robbery on Monday at Blyth, about 10 miles from Newcastle, carried out by a man with a similar description to Moat.
A Northumbria Police spokesman said the Lexus at the centre of the search was "very noisy", had a full body kit, damage under the bumper and two regular alloy wheels and two "space saver" thin wheels.
Samantha Stobbart, 22, was shot in Birtley, Gateshead, on Saturday along with her boyfriend Chris Brown, 29.
Shot in car
Pc David Rathband, 42, remains in a critical condition after undergoing surgery for face and chest wounds suffered when he was shot in his patrol car while parked on a roundabout in Newcastle on Sunday.
Police appealed for anyone with information about the Lexus to contact them.
Supt Dennis Shotton said: "We have information that this car is connected to Moat, although it does not belong to him but to an associate.
"We are keen to trace it as it may help us to locate Moat."
In appealing for witnesses to a robbery at a fish and chip shop in Astley Road, Seaton Delaval, Blyth, at 2250 BST, a force spokeswoman said inquires were at a "very early stage".
"We don't know who the offender is," she said.
The robber, who was carrying a gun, was described as white, 6ft (1.83m) tall, aged about 35, with a muscular build and short sandy-coloured hair.
Moat is described as white, 6ft 3in (1.90m) tall, with very short or shaven blond hair and a large muscular build.
Detectives believe the shootings were triggered by a grudge against Mr Brown and Miss Stobbart, which developed into a vendetta against the police.
Miss Stobbart has informed police she falsely told Moat she was dating a policeman because she was frightened of him.
Condition 'improving'
Before the attacks began Moat's Facebook status was changed to read: "Just got out of jail, I've lost everything, my business, my property and to top it all off my lass has gone off with someone else.
"Watch and see what happens."
The former nightclub doorman, from the Fenham area of Newcastle, is understood to have shot and killed karate instructor Mr Brown outside a house in the Scafell area of Birtley before firing shots at Miss Stobbart through the living room window of the property, hitting her twice.
On Monday police said Miss Stobbart was no longer in a critical condition and was "improving". She is being given police protection.
Police said a number of other people were being given protection amid fears others could be at risk.
It also emerged on Monday police had been warned Moat had threatened to seriously harm his former girlfriend the day before she was shot and Mr Brown killed.
Northumbria Police said Durham Prison had told them of Moat's comments a day after his release on Thursday from an 18-week sentence for assault. The force has referred the matter to the Independent Police Complaints Commission.
Det Ch Supt Neil Adamson also revealed police received a 40-page hand-written letter, purportedly from Moat, which outlined a number of "grievances".
Police said they believed Moat was still in the north-east of England but they suspected he probably had access to a vehicle.
Firearms officers from forces including Cleveland, Humberside, West Yorkshire, South Yorkshire and Cumbria, have been brought in to help in the hunt for Moat.