Waste 'measure' vote in assembly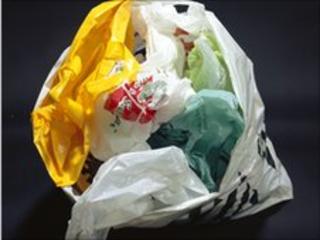 A proposal which would enable certain waste to be banned or restricted from landfill in Wales is being voted on by assembly members.
It would give ministers the power to set councils legally-binding targets for recycling or composting, with penalties if targets are missed.
The "measure" or law would also support the assembly government's plans to charge for using plastic carrier bags.
The assembly government says waste management is vital to Wales' future.
The measure would provide Welsh ministers with the power to introduce fees and charging schemes for site waste management plans relating to the construction and demolition sector.
It would also enable ministers to ensure retailers pass revenue raised from the carrier bag charge to environmental projects, should a voluntary agreement fail.
The proposed charge of 7p is expected to be in place by spring 2011.
Environment Minister Jane Davidson put forward the waste measure in February.
She said at the time: "We all know that landfill is the most environmentally damaging option for waste.
"The measure will allow us to ban certain materials from landfill and ensure that we significantly increase our recycling rates.
"It will also support our work to introduce a mandatory charge for carrier bags.
"The measure will drive us towards waste management practices that are much more sustainable and help us to reduce both our our ecological and carbon footprints."
Assembly members will vote on whether to approve the general principles of the measure on Tuesday during a plenary session.