Tallest tent in the world opens in Kazakhstan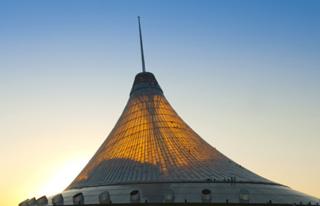 The world's tallest tent has opened to the public in the Central Asian nation of Kazakhstan.
Designed by the British architects Foster & Partners, the Khan Shatyr Entertainment Centre in the capital Astana is 150m (490ft) high.
It opens on the day the city celebrates 13 years as the capital and President Nursultan Nazarbayev his 70th birthday.
The centre has a huge indoor leisure park, designed to be protected from the region's harsh climate.
Standing on a 200m concrete base, Khan Shatyr is the city's highest structure and the world's tallest tent.
Inside, visitors will find shops, restaurants and cinemas - even an artificial beach and a running track.
Astana experiences extreme changes in temperature, from 30C in the summer to -30C in the winter.
The giant tent, which took four years to build, is designed to withstand harsh weather and maintain a comfortable temperature inside.
It is made from three layers of ETFE; a special see-through plastic that allows daylight to wash the interiors while sheltering them from weather extremes.
It is the latest in an extraordinary building programme that has transformed Astana since it became the Kazakh capital 13 years ago.