South Armagh cigarette raid accused released on bail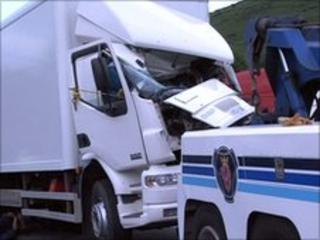 Two people charged over an incident in which two police officers were knocked down in south Armagh have been released on bail at the High Court.
James Francis McDonnell, 38, of Ferryhill Road, Newry, and a 17-year-old boy, were arrested after an operation near Meigh last month.
One police officer was critically injured after being hit by a lorry during the anti-smuggling raid.
A crown lawyer told the court neither accused had caused the injuries.
Both are accused of withholding information, concealing criminal property and evasion of customs duty.
The lawyer said the lorry driver and two other men had escaped. The lorry was later found in the Irish Republic.
The lawyer said police and customs officers had been carrying out an operation into cigarette smuggling in south Armagh and in a later search of a unit in Bridgeview Industrial estate - where the incident happened - they found 8.5m cigarettes with a value of £2m.
When asked by Mr Justice Weir if Mr McDonnell was a "Mr Big" in the operation, the crown lawyer said police could not say where he would be in the pecking order but were concerned he was a member of an organised crime gang.
The pair were freed on bail after £15,000 in cash sureties was lodged in the High Court.