Blast-hit Lindsey Oil Refinery workers remain at home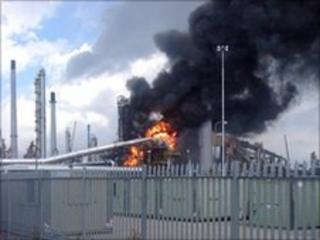 Workers at an oil refinery where a man was killed in an explosion have been told they may not be able to return to work until next week.
Hundreds of workers were sent home from Lindsey Oil Refinery in North East Lincolnshire after asbestos was found by teams investigating the explosion.
Grimsby man Robert Greenacre, 24, who was working near to the explosion site, died in the incident last Tuesday.
Total, which owns the refinery, said safety was its top priority.
Mr Greenacre was working near a crude oil distillation unit which exploded at the refinery in North Killingholme.
Asbestos was found the following day at the HDS-3 processing unit, which is adjacent to the distillation unit.
Asbestos specialist
Phil Whitehurst, of the GMB union, said: "GMB members were today told to stay at home and it is likely to be the end of this week or early next week before work resumes on the HDS-3 site."
Total said that since the incident a number of safety assessments had been carried out at the refinery.
A spokesman said: "The safety assessments, together with a clean-up plan of action, have been presented to the Health and Safety Executive (HSE) and are supported by the HSE investigation team and their asbestos specialist.
"Following a meeting today, the contractor workforce has agreed to return to work in all unaffected areas.
"Contractors working on the HDS-3 unit have been advised that they will not return to work until the clean-up is complete in that area."
Nigel Tranter, the refinery's general manager, said: "Safety is our top priority and we are satisfied that it's safe for our contract workforce to resume work in the unaffected areas of the refinery."