Scarborough council approves Spa rescue plan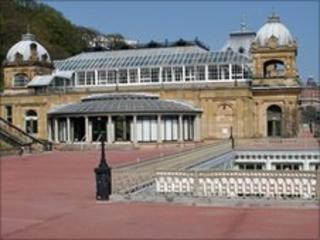 Scarborough Borough Council has agreed to use up all of its reserves to ensure the refurbishment of one of the town's top entertainment venues can continue.
Regional development agency (RDA) Yorkshire Forward said last week it would have to cut £800,000 from £4m of funding it had pledged for the scheme.
Councillors agreed to use reserves to plug the resulting funding hole.
Councillor Derek Bastimam, who is responsible for regeneration, said: "Common sense prevailed."
Larger stage
He added: "We are in a no-win situation.
"We have started works and to ensure we have got the conference facilities that people have asked us to deliver we need to carry on with it."
The £6.5m refurbishment project at the Spa complex includes a larger stage area, new lifts and a 24-hour car park.
Yorkshire Forward said it had to cut funding for the project and hundreds of others across the region after the government's decision to abolish RDAs.
A report to Monday's council meeting said the authority hoped to recover the funding from other sources in the next financial year.
Report author Ian Anderson, head of legal and support services, recommended councillors approve the plans, despite saying the use of the council's entire reserves would mean they had no available contingencies for any other projects in 2010/11.