Police probe 'threat' to campaigners at Meriden camp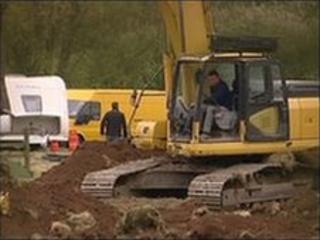 Police are investigating a threat made to green belt campaigners opposing an unauthorised travellers camp at Meriden in the West Midlands.
Villagers have been picketing the camp ever since the travellers began developing the Eaves Green Lane site on 30 April.
Residents said three men claiming to be travellers threatened to take over the lane and burn down houses.
West Midlands Police confirmed they were investigating.
'Intimidation'
Resident spokesman David McGrath said: "Three men in a white van purporting to be travellers pulled up to one of our vigils and said that they intended to take over the lane and burn our houses.
"Our protesters took the vehicle registration number and have made statements to the police.
"We will not tolerate bully-boy tactics, intimidation or threats of violence."
A spokesman for West Midlands Police said: "An allegation of threats to property has been made.
"Police are taking it seriously and are investigating."