Romania military plane crash kills 10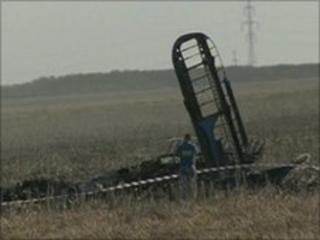 A Romanian military aircraft has crashed near the Black Sea while on a training mission, killing 10 people.
The defence ministry said the Antonov AN-2 plane was carrying paratroopers for training, but crashed close to Tuzla airport shortly after taking off.
Three of the 13 people on board survived by jumping out of the aircraft before it came down, witnesses said.
Authorities have launched an investigation into the cause of the crash.
The aircraft, a single-engined biplane of Soviet design, burst into flames after hitting the ground, officials said.
The three survivors were taken to hospital, where one is said to be in a serious condition.