Analysis: Little room to manoeuvre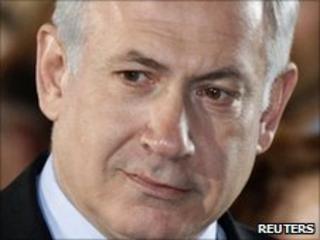 Before Benjamin Netanyahu and Barack Obama get down to discussing details of how to restart direct peace talks between Israel and the Palestinians, they will want to show the world that their own personal relationship and, more importantly, that of the US and Israel is rock-solid.
But hand-shakes, smiles, back-slapping and official photographs done with (there was famously no such photographic record of their last, frosty, White House meeting), the two leaders will, essentially, have to get down to addressing why their relationship soured so badly earlier this year.
Benjamin Netanyahu says he's listened and has since bent over backwards to accommodate Palestinian demands - making positive gestures like the freezing of new settlement building in the occupied West Bank.
These are gestures which, according to the Israelis, should be more than enough to bring the Palestinians back to direct talks.
Building continues
Palestinian leaders say the Israeli moves are hollow and meaningless.
"Settlement building is continuing everywhere," says Ghassan Khateeb from the Palestinian Authority - emphasising the fact that existing, not new, construction continues apace.
The Palestinians are also deeply angered by Israeli development plans in occupied East Jerusalem - the holy city is claimed by both Israel and the Palestinians as their capital but Mr Netanyahu's constant narrative is that Jerusalem will remain Israeli and undivided.
What matters this week in Washington is how Mr Obama now sees things.
Will he conclude that Israel's "gestures" go far enough to warrant a resumption of face-to-face peace talks?
Or will he put more pressure on Mr Netanyahu to stop the controversial planned demolition of Palestinian homes in East Jerusalem?
Indirect talks
Analysts say we shouldn't expect too much. Benjamin Netanyahu does not have much more room for manoeuvre.
Members of his own Likud party and other influential figures in the right-wing coalition are already demanding a complete resumption of all building in the settlements in September - on the occupied West Bank and in East Jerusalem.
Nor are Palestinian leaders rushing to sit down at the table.
Mahmoud Abbas, the Palestinian Authority President, and his advisers prefer to continue indirect talks through former US Senator George Mitchell for the time being.
With his own domestic political "issues" Mr Obama may, at day's end, conclude that putting too much pressure on the Israelis and Palestinians - for now at least - would not achieve desired goals.
So a nice framed photo of himself with a beaming Mr Obama is indeed all that Mr Netanyahu may leave Washington with at the end of the week.