Man sentenced over Leamington Spa factory fire death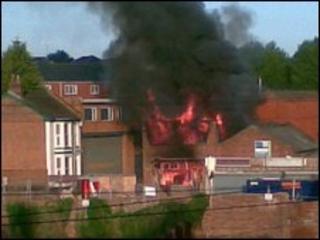 A man who started a fire in a disused building in Warwickshire which killed another man has been jailed for five years.
Bhupinder Johal, 42, died in the fire at the former cleaning company in Wise Street, Leamington Spa, on 4 June 2009.
Raymond Frederick Ward, 36, from Leamington Spa, pleaded guilty to manslaughter earlier this year.
Mr Johal was originally from Derby but had been living in the factory. The building was owned by his cousin.
At Birmingham Crown Court, Judge Richard Griffith-Jones, said Ward's actions were shameful but added that he accepted he had not intended to cause Mr Johal serious harm.
Ward had been friendly to Mr Johal in a park shortly before the fire.
"You were playing with fire, I am quite sure, in the park and after that you went back to the factory premises," the judge said.
"Those premises contained material which were a death trap once a fire had started, but I do not believe you knew that."
He said Ward, of St George's Road, may have wanted to start a small fire, but he was satisfied he had not intended to cause harm to Mr Johal.