Brazil gears up for close presidential contest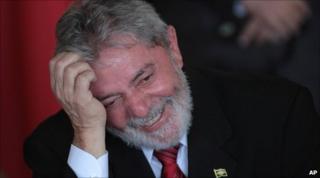 In the past, Brazil has seen some thrilling presidential elections with candidates promising radical changes, financial markets in turmoil, and uncertainty about the future causing in turn political and economical instability.
But not this time.
As the official campaign begins for the 3 October election, nobody expects big changes whatever the outcome.
With Brazil enjoying its longest period of prosperity in decades, the strategy of the two main candidates is to promise continuity with the policies of the current president, Luiz Inacio Lula da Silva.
Lula, who after two terms in the post boasts approval ratings of some 80%, is throwing all his weight and charisma behind his Workers Party's (PT) candidate, Dilma Rousseff.
The Workers Party is trying to cast the election as a referendum on President Lula's administration as a way of ensuring victory for Ms Rousseff, Lula's former chief of staff.
However, opinion polls suggest that Ms Rousseff faces a tight race against Jose Serra, candidate of the Brazilian Social Democratic Party (PSDB).
Mr Serra, the former governor of Sao Paulo state, is an experienced politician. He has the reputation of being a good manager, earned during his tenure as health minister in the 1990s under the then president, Fernando Henrique Cardoso.
Given the expected closeness of the election, Green Party (PV) candidate Marina Silva could have a significant effect on the race.
Ms Silva was President Lula's environment minister but she left the government in May 2008, saying that the government was only concerned with development, without any consideration for sustainability issues.
Now, Ms Silva, who also left the Workers Party, is trying to portray herself as a third way.
"I think Marina Silva could get to some 15% of the vote, which would already be very good for her. And it seems that she is taking many more votes from the opposition than from President Lula, even though her origins are in the Workers' Party," says Claudio Couto, a political scientist from Sao Paulo's Getulio Vargas Foundation.
Bitter battle
October's election day will also see votes for governors as well as state and federal elections.
Not permitted to campaign until now, political parties have three months to get their message out to voters, a large number of whom are unlikely to be aware of the issues or even the candidates.
From mid-August, all parties get free time on the national TV networks to sell their message and candidates.
And for one hour every day, all TV channels in Brazil have to show election-related publicity, with the time split among the parties according to their representation in Congress. That is when the battle will really begin.
The contest between Mr Serra and Ms Rousseff is expected to be hard fought and bitter, even if most analysts say the candidates' policies are not too far apart.
"They have similar ideas about economic policy and to some extent even foreign policy and social policies. I don't believe that we'll have real transformations if one or the other candidate wins," says Professor Couto.
With Ms Rousseff's campaign based largely on the stability and prosperity enjoyed under Lula, Mr Serra and the PSDB are quick to point out it was President Cardoso's government from 1995 to 2002 laid the groundwork.
Lula, they argue, did not change fundamental economic policy when he came to power in 2003.
However, such an argument has its limits.
"There is very little room for Mr Serra to attack Lula's economic policies not only because the country is growing but also because his party has very similar ideas," says Vera Chaia, a political scientist from Sao Paulo Catholic University (PUC).
"That's why it seems Mr Serra indicated that he will focus his campaign on health care and crime, that are two issues of great concern to Brazilians and that have never been properly dealt with by any government."
'It's amazing'
Mr Serra's campaign slogan - "Brazil can do more" - indicates that what he seeks to offer is not radical change but better management of the country.
Although they have taken different paths, the candidates' political backgrounds are in some ways similar.
Mr Serra was part of the opposition to the military dictatorship that ran Brazil in the 1960s and 1970s, and spent several years in exile, while Ms Rousseff was part of the underground resistance against the regime and spent time in jail.
"They all come from the left but have moved further right over the years," says Professor Couto.
"All main parties in Brazil are a bit further to the right than they like to admit: the PT say they are socialists but they are social democrats and the PSDB say they are social democrats but they are actually liberals."
While Mr Serra is a seasoned election campaigner, having run and lost against Lula in the 2002 presidential poll, it is the first time Ms Rousseff, a career civil servant, has run for elected office.
Her inexperience is seen as a shortcomings, hence her reliance to date on President Lula's prestige and popularity.
"Until the beginning of this year, I was still doubting that President Lula would manage to transfer as many votes to her, but now I see it happening. It's amazing," says Professor Vera Chaia.
The constitution does not allow President Lula to run for a third consecutive term this year.
Opinion polls suggest that if he could, he would be a likely winner.
But while he is not on the ballot this year, many believe that the most popular president Brazil has ever had could be back in four years time for the 2014 elections.
"I think the best scenario for Lula in this case would be Dilma winning and doing a regular government. Not fantastic but just good enough to leave room for Lula to come back next," says Professor Claudio Couto.
"Lula is still young as believes he has a lot to do. I just don't see him leaving the stage like this."