South Yorkshire Lotto winner to keep caravanning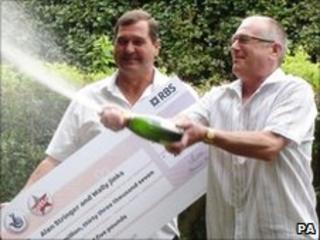 A National Lottery millionaire said he intends to continue caravanning holidays along the Yorkshire coast despite hitting the jackpot.
Wally Jinks, 51, shared £2m with his friend Alan Stringer, 50, after they matched six numbers in a Lotto draw.
The men, from Edenthorpe, Doncaster, were unaware they had won the prize for 11 days because Mr Jinks and his wife were on holiday at the time.
Mr Jinks said his main aim was to upgrade his caravan.
He said: "We're going to upgrade our caravan - we tour caravans.
"We're going to buy a new car as well. Not a brand new one, a Shogun."
The self-employed tyre repairer said he does not want to finish work because he would let his business partner down.
Electrician Mr Stringer also said he was not planning to give up work.
"You've got to keep your feet on the ground," he said.
He said he will get rid of the 13-year-old car he bought for £400 five years ago, but he would replace with with a second-hand estate car.
The men, who have known each other for 17 years, have been playing the National Lottery since 1994 and always enter with three Lucky Dips.
Mr Jinks and his wife only checked their numbers five days after they returned home from a holiday in Jersey.
Mr Jinks said it was amazing he was unaware of his good fortune for so long.
He said he was still waiting for a new PIN for his card so he could get his hands on the cash windfall.
He said: "We were millionaires while we were on holiday and we didn't know about it. They kept saying 'you've got to be millionaires to live over here'. At the time, we were."
Mr Stringer and Mr Jinks won a share of the Lotto Rollover Jackpot for 19 June, when the winning numbers were 34, 37, 39, 41, 42, 47.
They bought the ticket at Tesco in Edenthorpe.