Government spends thousands on iPhone apps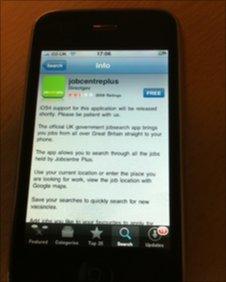 BBC News has learnt that the Government has spent tens of thousands of pounds developing iPhone applications.
A Freedom of Information (FOI) request revealed that development costs ranged from £10,000 - £40,000.
These included a travel advice app from the Foreign Office and a jobseekers' tool.
But the Home Office declined the FOI request for information on its iPhone apps, saying security concerns "prevent us from supplying information".
The information comes just a few weeks after the government announced it was to conduct a review of all 820 of its websites.
A report by the Central Office of Information has revealed that the government spent £94m on website development and running costs and £32m on web staff in 2009 - 2010.
The most expensive application was a proposed Driver and Vehicle Licensing Agency (DVLA) app that provides "a masterclass for changing your wheel".
Documents seen by the BBC reveal that the DVLA Motoring Masterclass app would cost £40,000 and would also work out fuel mileage, act as a hazard light and track RAC patrols.
A spokesman for the DVLA told BBC News:
"We want to make it as easy as possible for motorists to renew their car tax, tell us about a change of address or update their driving licence, meaning they stay safe and legal to drive.
"This would also bring benefits for DVLA, for example by reducing the number of reminders that need to be sent out.
"We considered how an application could help with this but no final decisions have been taken and the app, for now, is still in development," he added.
It is not known how much of the total £40,000 budget has been spent or how far the app is from completion. At present, the spokesman said, further development is "on hold".
By the end of May there were over 53,000 downloads of the Jobcentre Plus app, although critics have asked why someone who can afford both an iPhone and the expensive running costs would need a Jobcentre Plus app.
There are also reports that it will not work with Apple's new iOS4, which Mark Wallace, campaign director for the Tax Payers' Alliance, found a little ironic.
"It seems many Government bodies have given in to the temptation to spend money on fashionable gimmicks at a time when they are meant to be cutting back on self-indulgent wastes of money", he told BBC News.
"It is ridiculous not only that they are commissioning these apps but that some of them are supposedly secret on grounds of national security.
"Someone who is faced with losing their home because of high tax bills, or whose life is being ruined by crime isn't going to get any reassurance from knowing there's an app for that," he added
However, a number of government departments said they had no plans to develop iPhone applications, including the Department for Culture. Media and Sport, HM Treasury, Northern Ireland Office, Scotland Office, Government Equalities Office, Ministry of Justice, the Cabinet Office and the Department for International Development.
A statement by the Cabinet Office to BBC News said: " The government recently announced a freeze on all marketing and advertising spend for this year and this includes iPhone applications.
"Future spend on iPhone development will be subject to strict controls: only essential activity, approved by the Efficiency and Reform Group, which is chaired by the Minister for the Cabinet Office and the Chief Secretary to the Treasury, will be allowed".