Salford peat protesters' charges dropped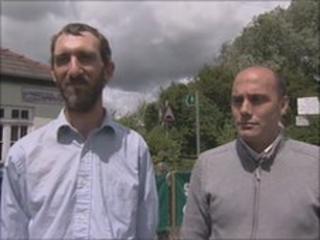 Two climate change campaigners who chained themselves to a digger at a peat bog extraction site have had a criminal case against them dropped.
Iain Hilton and Sonny Khan attached themselves to the machinery in Chat Moss near Irlam in April to protest against plans to extend the site.
Salford Magistrates threw out charges of causing intentional harassment, alarm or distress.
Site owners, Peel Holdings, are yet to comment on the court ruling.
Increase in demand
The two protesters, who are part of the campaign groups Manchester Climate Action and Earth First! North West, said that peat moss extraction has a "huge impact" on the environment.
Following the hearing, Iain Hilton told the BBC: "Peat is like a carbon sponge with greenhouse gases locked up in it.
"When released it has a devastating effect on the local climate.
"There are places of immense natural beauty I feel people should be able to use them and enjoy them - they should not just be used to carve out profits for companies."
Peat bogs are formed over thousands of years by the decaying remnants of plant matter and actively soak up carbon from the atmosphere.
However demand for the substance has increased with more amateur gardeners seeking it for their gardens and is often harvested for fuel.
Mr Hilton's fellow protester, Sonny Khan, said that even though the charges against him had been dropped, he would continue his fight.
"The campaign will not stop to protect Chat Moss, we will not stop until peat excavation is stopped on this site and it's protected," he said.
At the moment, there are five separate peat extraction renewal applications in the area.