School buildings scheme scrapped
By Hannah Richardson
BBC News education reporter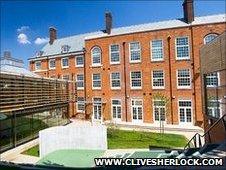 Hundreds of school building projects are being scrapped as England's national school redevelopment scheme is axed by the government.
Education Secretary Michael Gove said 719 school revamps already signed up to the scheme would not now go ahead.
A further 123 academy schemes are to be reviewed on a case-by-case basis.
His department has been reviewing Labour's Building Schools for the Future scheme since the election.
It concluded that all local authority schemes that have not reached financial close would not go ahead, saving "billions" of pounds.
This means 706 schools in the existing BSF programme which have reached financial close will continue, but officials will see how savings can be made within them.
Another 14 projects in local authorities further down the BSF priority list would be considered to see if a small number of revamps could be brought forward.
Mr Gove said: "The Building Schools for the Future scheme has been responsible for about one third of all this department's capital spending.
"But throughout its life it has been characterised by massive overspends, tragic delays, botched construction projects and needless bureaucracy."
He called the scheme "dysfunctional" and "unnecessarily bureaucratic", with nine "meta stages".
He added: "It is perhaps no surprise that it can take almost three years to negotiate the bureaucratic process of BSF before a single builder is engaged or brick is laid."
Some 180 schools have been rebuilt or revamped since the programme was introduced by Labour in 2004. And building is about to start in 231 schools.
But 1,100 schools have already signed up to the scheme, investing time, energy and money into drawing up plans for redevelopment, but have not reached financial close.
Originally all of England's 3,500 schools were to be revamped by 2023. The plan was to replace out-dated buildings with facilities that suit modern education.
But Mr Gove said the national building scheme had been beset by red-tape and delays.
He BSF had "failed to meet any of its targets", and that while 200 secondary schools were meant to have been rebuilt by the end of 2008, only 35 had been completed, with a further 13 refurbished.
He said the whole way schools are built needed radical reform to ensure more money is not wasted on pointless bureaucracy, to ensure buildings are built on budget and on time.
A review is being set up to see how capital funds can be used to rebuild schools more effectively.
This is being led by the operations director of the Dixons Store Group Sebastian James and includes Professor John Hood, former vice-chancellor of Oxford University.
Shadow education secretary Ed Balls said the decision was a "tragedy" for teachers and parents who would have benefited from new facilities.
He said: "Today is a black day for our country's schools."
He added that he and his Labour colleagues would fight to "save our new schools".
Christine Blower, the general secretary of the National Union of Teachers, said there was "no excuse for leaving schools which were promised new buildings swinging in the wind".
"Poor learning environments have a negative impact on the education of children and young people.
"School buildings were woefully run down prior to Labour coming to power in 1997 and while much has been done to improve them there is still a lot more to do."
Ty Goddard, head of the British Council for School Environments, said waste and bureaucracy had been a real drag on BSF, but said it was important to remember how important it was to invest in school buildings.
Chris Keates, Nasuwt general secretary, said the announcement would devastate parents and schools, and condemn thousands of children and young people to a future of Dickensian education.
Below is a selection of your comments
It's an absolute disgrace, Cameron said he wouldn't cut the education programme. Some of the schools aren't fit for animals never mind kids. Tom Cairns, Tyneside
My son is a pupil at a secondary school that needs its main building replaced as it has reached the end of its life. I fear it will not be seen as a priority in the cuts. What I find frustrating is that there have been no economies of scale in the whole BSF programme - surely money could have been well spent on a national school design that could have used the best school designers and been rolled out across the country? Instead millions have been wasted on duplicating consultants and architects across the country with the result that a substantial proportion will now not happen! Ken, Havant
If the funding for the BSF is put on hold this would be devastating for the construction industry once again… we need the government to kick the construction industry back into gear and keep millions from being out of work, not cuts that will put me back on the street. Simon Wilson, Bradford
Another attack by the Con-Dem Alliance on State Education. Old Etonians and their public school allies want to run state schools into the ground… 10 years ago middle class parents moved out of central London in droves because of the terrible state of "inner City comprehensives". Labour's investment in "education, education, education" has changed these schools beyond all recognition. Alistair McIntosh, Lambeth, London
It's going to be a safe bet that school buildings in Tory and possible Lib Dem areas (or just where the parents are rich) will still get the go ahead. The rest of the schools, which are falling down and we as a nation should be ashamed of, will be left to fall down even more. Jeff Crowe, Alfreton, Derbyshire
The fundamental question is why hasn't there been a proper planned maintenance programme of works on our schools, as prudent managers would? Do private schools go through complete rebuilds? Not very often I suspect. Replace the managers responsible for this mess now. Spread the spend evenly so the expenditure is not so onerous - for the sake of future generations not the necks of Government ministers! Will Hart, Meriden
President Kennedy school in Coventry is part of the BSF process, it's falling down. If the BSF project does not got ahead it will be a travesty. This government has no intention of supporting our young people and this decision not to go ahead with this school building project is the first u-turn on their election pledges not to touch education. Dave Womble, Coventry
Related Internet Links
The BBC is not responsible for the content of external sites.