Gunman Raoul Moat had 'lost everything'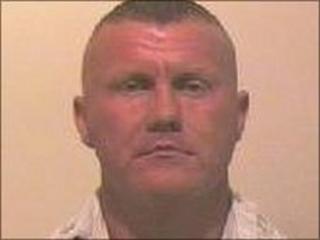 When gunman Raoul Moat recently left prison, he believed that he had "lost everything".
Within days he had gained national notoriety and for almost a week he became the subject of a huge police manhunt. It ended in him apparently shooting himself dead after a six-hour stand-off with armed police in the market town of Rothbury, in Northumberland.
On 1 July, the 37-year-old was released from Durham Prison, following an 18-week sentence for assault.
Days later, the father-of-three was being sought by armed officers in connection with the shooting of his ex-girlfriend, her new partner - who was killed - and a police officer last weekend.
Before the attacks started the suspected gunman's Facebook status was changed to read: "Just got out of jail, I've lost everything, my business, my property and to top it all off my lass has gone off with someone else.
"Watch and see what happens."
Moat was described as 6ft 3in tall and of muscular build and relatives painted a picture of a man who was prone to "eruptions of anger".
They also revealed that he used body-building steroids, which some research has linked to aggressive behaviour.
It has emerged Moat previously had a girlfriend in Rothbury, where the manhunt for him came to a conclusion.
During that time he is understood to have camped in the area and got to know it well.
The woman, Yvette Foreman, 35, spent weekends camping with him when the pair were both were in their 20s.
She said her ex-boyfriend had been a "lovely lad" and a practical joker who was "daft as a brush".
'Dark side'
But old letters he sent her provided a glimpse into the suspected gunman's volatile personality.
One of the letters, which is among a number taken from Miss Foreman by police, contained a violent fantasy in which he described plans to beat a rival.
"The only time I saw his dark side was in his letters. I remember he once talked about someone who was going to get done with a baseball bat," she said.
"He was saying how he and his mates were going to take a bat to somebody because they'd fallen out with somebody.
"I never really paid it any attention, until now."
Raoul Moat was raised by his grandmother in Newcastle's West End, close to where his father and mother both lived.
His uncle, Charlie Alexander, 72, told the BBC he had offered to go to help police negotiations with his nephew on Friday night.
He said: "He was asking for us. He said he had no family and he had no dad.
"If I went up he would have had someone that loves him and it would possibly have turned him that little bit that he needed to, to say, 'I'm going to give myself up'."
Mr Alexander, whose late wife Barbara was the sister of Moat's mother Josephine, described his nephew as a "soft" figure.
"He was so gentle with us. There was no aggression, no fighting, no arguing, he was so soft.
"My family called him the gentle giant. Where it's all gone wrong has changed him.
"But I am still shocked that he's dead, he's gone."
Police arrests
Prior to Moat's term in Durham prison, he had worked as a doorman at a nightclub in Newcastle's Bigg Market, an area of the city famous for its nightlife.
His life in recent years appears to have been punctuated by a number of encounters with police.
Northumbria Police confirmed he had been arrested on 12 occasions and was charged with seven separate offences as a result.
At his trial for possession of an offensive weapon - a knuckle-duster police had found in the car he was driving - he told the court he would not have considered using it as a weapon.
"My hand barely fits through it," he said.
"It is an ornamental item. I wouldn't like to hit someone with this.
"I am a big lad and I would have thought if I punched someone with this it would take the skin off my knuckles right down to the bone."