St Helens supermarket worker died after 'thief push'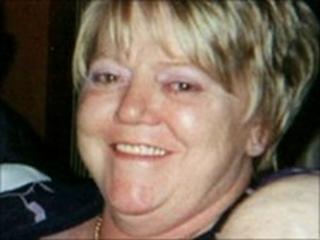 A supermarket worker died after being pushed to her knees by a shoplifter as she tried to stop him stealing razor blades, Liverpool Crown Court heard.
Maureen Marsh, 57, confronted Steven Brighouse at Morrisons in St Helens, Merseyside, last April.
She had an aneurysm which ruptured after the confrontation. She then suffered from haemorrhaging and swelling on the brain.
Mr Brighouse, from St Helens, admits theft but denies manslaughter.
The 33-year-old, of Gloucester Road, also denies assaulting Mrs Marsh.
'Inevitable conclusion'
Richard Pratt QC, prosecuting, told jurors the confrontation was "unpleasant, painful and humiliating".
"It was, in any view, a stressful one also. But not, I suppose to those who witnessed it, on the face of it life threatening," he said.
"And yet it was.
"Within minutes of that assault she was complaining of a headache which never went away and which became progressively worse.
"It is, we say, an inevitable conclusion that the defendant's assault was a substantial cause of her injury and her death."
Mr Pratt told the court Mrs Marsh had had the aneurysm in the area of her brain for "some years", unknown to her or her family.
He said the "only sensible" conclusion about why it ruptured on that day was the stress of her confrontation with Mr Brighouse.
"The acute stress of the confrontation with the defendant caused her blood pressure to rise and thus brought about a rupture to that aneurysm," he said.
The confrontation took place at lunchtime on 18 April 2009, the court heard.
Mr Brighouse picked up Gillette Fusion razor blades before walking towards the store exit, Mr Pratt said.
As he left the shop, Mrs Marsh shouted after Mr Brighouse. They came face to face and he pushed her to the left side of her chest.
Mr Pratt said: "The push appears to have knocked Mrs Marsh to the ground and the defendant left the store and made good his escape on a bicycle.
"He left as Maureen Marsh was on her knees."
'Wonder woman'
Mrs Marsh, a grandmother-of-four, began complaining of a headache and she was seen by a colleague at the store's personnel office.
Patricia Redican asked her: "When are you going to stop being wonder woman?"
Mrs Marsh went home and took two painkillers. Her condition deteriorated and she was taken to Whiston Hospital on Merseyside.
A CT scan found widespread haemorrhaging and swelling on the brain.
"She was desperately ill and sadly no surgical intervention could, at that stage, have saved her," Mr Pratt said.
The case continues.