Man jailed for Reading court petrol attack on defendant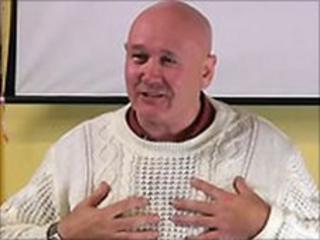 A man who was repeatedly raped at a Berkshire children's home in the 1960s has been jailed after throwing petrol over a man he claimed abused him.
John Affleck attacked Oliver Denham Gilbart-Smith, 62, just after hearing he would not face further charges concerning Green Field in Maidenhead.
Mr Gilbart-Smith was showered with petrol as he left the dock at Reading Crown Court on Monday.
Affleck, of Southampton, was later jailed for 12 months for contempt.
Last month, Mr Gilbart-Smith, of Clifton Reynes, Olney, Buckinghamshire, was cleared of 15 counts of sex assaults on eight young boys between 1964 and 1970, including five rape charges.
Affleck, a 52-year-old company boss of Langhorn Way, Swaythling, claimed Mr Gilbart-Smith had sexually abused him as a boy when he was a resident at Green Field and he gave evidence against him during the five-week long trial.
Chemical burns
On Monday, Judge Stephen John told him the Crown Prosecution Service was not going to pursue a retrial on two charges which the jury had been unable to reach a verdict on.
As Mr Gilbart-Smith tried to leave the dock at court four, Affleck doused him in fuel and brandished a lighter.
After being wrestled to the ground Affleck told Mr Gilbart-Smith: "This is just the beginning for you."
Judge John described it as "a deliberate and planned attack" which was "potentially dangerous" and "very frightening" and not carried out "in the heat of the moment".
He added: "There's no question that you yourself had suffered abuse while at that home."
However, the judge said, the issue here was whether Mr Gilbart-Smith been involved in that abuse - the jury had decided he had not.
Mr Gilbart-Smith suffered chemical burns to his face from the petrol and the court was evacuated.
Compensation pay-out
Green Field, in Ray Park Road, catered for boys aged from about 10 to 15, but the home no longer exists and the building was demolished some time ago.
It was run by Berkshire County Council, which was abolished in the local government reorganisation of 1998.
In 2006 nine men received an out-of-court pay-out totalling more than £300,000 after they were abused in the home.
In the 1960s it was managed by the late Don Prescott, who allegedly rented the boys out to other paedophiles across England.
The civil settlement with Windsor and Maidenhead council came despite no criminal convictions over the case.
The alleged abuse took place at the home in Maidenhead and at locations in Kent and West Sussex.