West Sussex man jailed over images of child abuse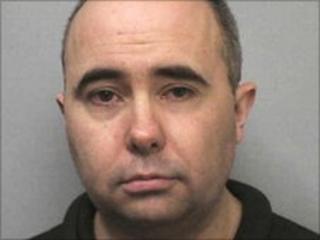 A West Sussex man who built up and shared a library of depraved images of child abuse has been jailed for seven years and nine months.
Mark Hough, 39, of Haywards Heath, collected tens of thousands of images, some of which depicted abuse of toddlers aged under three.
Lewes Crown Court heard his collection was one of the largest Sussex Police had ever dealt with.
A judge said Hough's addiction amounted to a "serious disease".
The court heard Hough's obsession with child pornography started after he was made redundant following nearly 20 years in the same job.
Extreme pictures
Officers who executed a warrant at his home in Franklands Village in March last year seized a computer tower, videos, thumb drives and more than 700 CDs.
Other users asked him for extreme pictures and videos and Hough provided access to the thousands of files he had, the court heard.
Despite being arrested on suspicion of offences linked to offensive images of children, he bought a new laptop while on bail and searched for more pictures.
Of the 53,000 indecent images found - ranging from level 1 to the most serious, level 5 - almost 47,000 were held in folders he shared with others.
Due to the depravity in some of the images, officers investigating the case were given only limited viewing time because of concerns over their welfare.
'Vile photographs'
Hough admitted possessing indecent images of children, possessing with intent to distribute indecent images and three counts of voyeurism, after he filmed women known to him in the bathroom.
Judge Anthony Scott-Gall ordered that Hough be added to the sex offenders register for the rest of his life.
Det Con Chris Smith, from Sussex Police, said Hough was well-known in his community as he was involved with a youth organisation, but stressed there were no links between his work there and his offences.
He said the children depicted in the "vile photographs" had been subjected "to the most horrific sexual abuse".