Cornwall Council criticised for World Cup goals removal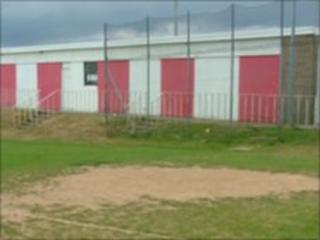 Cornwall Council has been criticised for removing goal posts from public pitches at a time when the World Cup has increased interest in football.
The issue has been raised at town council and county council level.
The council said that play during the season had meant goal mouths were left bare of grass and they needed to be rested out of season.
It added that fields could still be used, but just that the posts were not available during the summer.
Saltash teenager Tom Davy raised the issue when the posts on pitches at nearby Warfelton were taken down.
The 18-year-old said he spoke up because young people wanted their voices to be heard.
He said: "The kids want to play football in the summer. They've seen the football on the television and they want to play it."
One of Saltash's councillors on Cornwall Council, Bryan Preston, then raised the issue of the missing posts at a full meeting of the county authority.
He said: "My argument is: 'Can we put them up somewhere else? Can we have an alternative?'.
"We've got a whole load of young people who want to play football. They want to get out, exercise, stay out of trouble and do other things, and there's not a goal post in sight."
'Recovery needed'
The council's operations manager for the environment service Charlie David said he understood that it would "be nice to have the goal posts" all year round.
However, he added: "From our point of view, and in order for us to maintain an area well so it can be used for the winter for proper football events, it does need to recover, so we do need to take the goals posts down.
"We're not stopping people from using the area, but we can't put them up elsewhere, unfortunately.
"It would cost us quite a bit and we'd probably have to them take up again because we don't want other sockets on the pitch."