Bumper breeding season for owls in Cumbria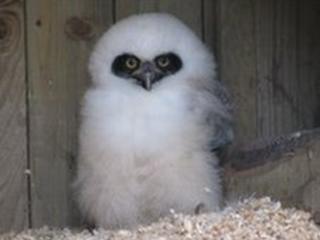 An owl sanctuary in the western Lake District has said it has had a record-breaking breeding season.
In 2009, 46 chicks were hatched from 16 species at the World Owl Trust (WOT) at Muncaster Castle near Ravenglass.
This year so far, more than 50 chicks have been raised from the 21 species of owl in residence. That figure is expected to increase.
Experts working at the site said early preparation for breeding season had contributed to the increase in numbers.
Andy Chafe from the WOT said: "We're delighted 2010 has been such a successful year so far, which is testament to the effort we made in preparation for this breeding season.
"During the latter months of 2009, aviaries were renovated, disinfected and re-branched, new nest boxes were constructed and sited and owls were transferred to and from other centres to make up potential new breeding pairs."
Most of the owls only breed once a year but if they lay their first eggs early, some will raise chicks in the spring and then again in the summer.
Two pairs of white-faced owls and a pair of ferruginous pygmy owls are on their second clutches of eggs.
It is hoped they will hatch so visitors can expect to see more new arrivals in the coming weeks.