Ex-rebel denies giving Charles Taylor diamonds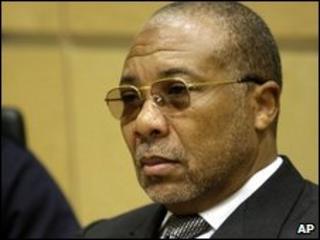 A Sierra Leone ex-rebel has denied at a war crimes trial giving "blood diamonds" to former Liberian President Charles Taylor.
Issa Sesay, who is serving a 52-year jail term, said Mr Taylor had not been in charge of the Revolutionary United Front (RUF) rebel group during the war.
Mr Taylor is accused of using diamonds to fuel a conflict in Sierra Leone that cost tens of thousands of lives.
He has pleaded not guilty to 11 charges.
The UN-backed war crimes tribunal in The Hague has spent more than two years hearing the case, with seven months spent with Mr Taylor himself on the stand.
Sesay, 40, was sentenced in October 2009 by the same special court, which was set up to try suspects from the civil war.
Murders and rapes
Mr Taylor, 62, is suspected of selling diamonds and buying weapons for Sierra Leone's RUF rebels, who were notorious for hacking off the hands and legs of civilians during the 1991-2001 civil war.
Tens of thousands of people died in the interlinked conflicts in Sierra Leone and Liberia.
Sesay, the highest profile witness to testify for Mr Taylor's defence, said he had never given Mr Taylor gems and that, as far as he knew, neither had other leaders.
"No, I don't remember giving diamonds to Mr Charles Taylor," he told the court.
He also denied receiving weapons or ammunition from Mr Taylor, and said the first time he met him was in May 2000.
Sesay did acknowledge that some rebel commanders had been responsible for murders and rapes during the conflict, and said that the amputation of limbs had occurred.
But it had not been the policy of the rebel group to use such actions, he said.
Prosecutors have ordered supermodel Naomi Campbell to appear as a witness on 29 July, after claims that she received a diamond from Mr Taylor at a reception in South Africa in 1997.
Ms Campbell has previously declined to provide testimony.
In an interview on the Oprah Winfrey Show, she neither confirmed nor denied that she received the gem, instead saying: "I don't want to be involved in this man's case. He has done some terrible things, and I don't want to put my family in danger."
US actress Mia Farrow, who Ms Campbell allegedly told about the gift, may also testify.