Second inquiry into family stab deaths in Derbyshire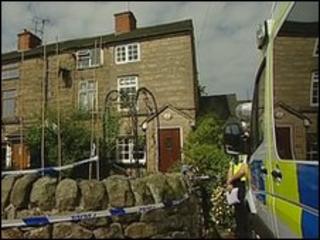 A second inquiry has started following the death of a boy who was stabbed alongside his mother in Derbyshire.
Rachel Slack, 38, and her 23-month-old son Auden were found dead at Holbrook on 2 June.
Auden's father Andrew Cairns, 44, had killed himself. The Independent Police Complaints Commission is already investigating.
The Safeguarding Children Board will also investigate the boy's death to see what lessons can be learned.
Mr Cairns was detained twice in the week before the killings, once under the Mental Health Act, before he was arrested for threatening to kill Miss Slack, an artist who had lived in Spain.
He was released on police bail and told not to contact Miss Slack, who was three months pregnant by a new boyfriend.
A spokesman for Derbyshire County Council said: "A serious case review has been commissioned to look into the death of Auden Slack.
"If the review should find lessons can be learned these will be put into action, and those which are urgent would be put in place before the review is completed."