Pakistan clerics accuse Punjab leaders of Taliban link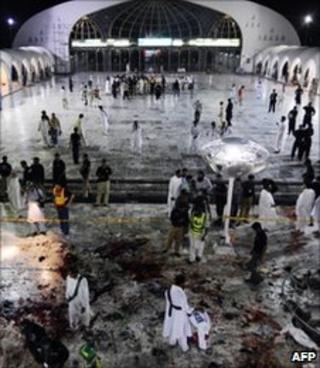 Religious leaders of the Barelvi sect in Pakistan have accused some top government officials in Punjab province of having contacts with the Taliban.
In a meeting with Punjab Chief Minister Shahbaz Sharif the leaders demanded the resignation of at least one official, provincial law minister Rana Sanaullah.
The demand comes amid countrywide protests over a suicide attack in Lahore late last Thursday night.
Nearly 50 people were killed in the attack on a popular Sufi shrine.
'Contacts with terrorists'
The Taliban, who are suspected of carrying out the attack, belong to the Deobandi school of Islam which opposes worship at shrines. Such worship is an important part of the faith of the majority Barelvis in Pakistan.
The Taliban have targeted several shrines of Sufi saints in the country since 2009, apparently as part of a strategy to discourage people from visiting them.
Data Darbar in Lahore is the most popular of the shrines so far targeted.
The generally peace-loving Barelvi leaders have been calling for "armed retaliation" during protests over the weekend, while protesters have been seen brandishing guns, a rare sight in Barelvi gatherings.
"Rana Sanaullah's contacts with terrorists are most obvious, and he must resign," Haji Fazl-e-Karim, one of the Barelvi leaders, told the media after the meeting with the Punjab chief minister on Sunday.
He said the Barelvi leaders had also demanded tighter security at shrines and surveillance of some religious seminaries in the city.
Mr Sanaullah campaigned with a leader of the extremist group, Sipah-e-Sahaba Pakistan (SSP), in what is seen as an attempt to win votes during a recent by-election in the province.
Shahbaz Sharif, and his brother, opposition leader Nawaz Sharif, are also accused by some of failing to crack down on Taliban militants. The Sharifs deny the allegations.
Officials said that during Sunday's meeting, Chief Minister Sharif ordered a joint committee of government officials and Barelvi scholars to be set up to look into their "grievances" and to address "misunderstandings".
There was an outcry earlier this year when Shahbaz Sharif appealed to the Taliban not to attack targets in Punjab. He said his PML-N party and the militants shared common cause, having both opposed Pakistan's former military ruler Pervez Musharraf.
In June it emerged that the Punjab government gave about $1m (£674,000) last year to institutions linked to the Jamaat-ud Dawa charity, which is on a UN terror blacklist.