Concern at falling levels of River Kennet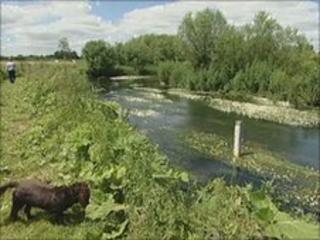 Conservationists in Wiltshire have said they are concerned stretches of the River Kennet are drying up.
Action for the River Kennet (Ark) said wildlife is threatened by over-abstraction of water from the Thames tributary.
The river's aquifers supply a wide area of the county, including Swindon.
Thames Water said it had a plan that could cut the extraction rate, but it wanted help with the £10m cost of implementing it.
Charlotte Hitchmough of Ark said the recent hot weather had led to a surge in use of water and river levels were dropping rapidly, with stretches of the watercourse already dried totally up.
"A chalk stream naturally has winterbournes which are dry during the summer, but those stretches of winterbournes are getting bigger each year and the main river levels are dropping.
"What is worrying is that with less water, the river doesn't behave as it should and any pollution has that much more consequence."
Ms Hitchmough said the solution was for people to use less water: "It's up to everyone to just use what you need, to cut down on washing the car, watering the lawn, even cleaning your teeth with the tap running - all these things you've heard a million times, but they do make a difference."
Thames Water's sustainability director Richard Aylard admitted the company's extraction operation near Axford was adding to the Kennet's problems.
He repeated the call to save water, but added the company was looking at supplying the south Swindon area from a reservoir in Oxfordshire.
"We're talking to the environment agency as to how we fund this work as obviously £10m is a lot of money... but we have the design and we know how we can do it once the funding is sorted out," he said.
"The flows are not in difficulty at the moment, but if we have a dry summer and a dry winter, then we'd be in trouble next spring."