BT strike ballot axed over legal hitch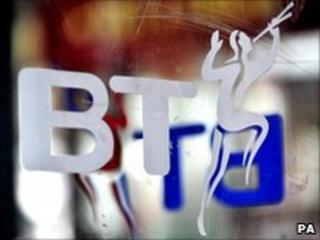 A ballot of BT workers for strikes over pay has been cancelled following legal advice, according to the Communication Workers Union (CWU).
The CWU was balloting members in support of a 5% pay rise after what it called a period of wage freezes and a round of redundancies.
The firm has offered a 5.1% rise over 21 months and several one-off payments.
The union said that there were technical breaches of the ballot which could have invalidated the result.
The CWU had been due to reveal the result of the voting, raising the threat of the first mass industrial action at the telecoms giant since 1987.
The union added that it had received an offer from BT to meet for further negotiations, an offer it will take up.
Meanwhile, it still plans to press ahead with the necessary steps to allow a re-ballot to be held.
'Devastating'
The CWU deputy general secretary, Andy Kerr, said: "We're bitterly disappointed that this ballot has had to be cancelled.
"It's devastating for our members and for trade union rights in the UK and of course it doesn't help to resolve the outstanding issues over pay which we have with BT."
A statement from BT said the company was pleased with the development and that it was willing to hold face to face talks.
It said: "There were procedural issues regarding the ballot that we raised from the start and the union have now accepted this to be the case.
"Our door remains fully open to the union and so we hope we can sit down and resolve this matter. An amicable agreement is in everyone's interest and the withdrawal of the ballot provides both sides with a window of opportunity in which to reach such an agreement."