Swansea Uni developing fungus as pesticide alternative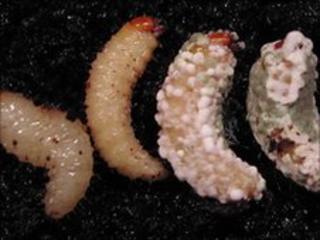 Researchers at Swansea University say they have come up with a naturally occurring alternative to pesticides to protect a wide range of crops.
They are using a fungus to target vine weevils and western flower thrips which are a problem around the world.
They claim it could be a safe, green alternative to chemicals and save growers time and money.
The university's School of Environment and Society is working with partners to develop commercial products.
Professor Tariq Butt said they had developed a fungal biological control agent called Metarhizium anisopliae which had shown highly successful results in horticultural tests.
He said were a big problem for fruit and flower farmers across much of western Europe and north America.
Western flower thrips were a bigger problem, he added, as not only did they damage crops but also because they spread plant viruses. They also developed resistance very quickly to chemical pesticides.
He said there were many advantages to using a naturally occurring, sustainable alternative to pesticides.
The fungus, compared with most chemical insecticides, was much more specific would could less harm to human health and the environment.
"We concentrated our efforts on identifying a fungus that occurs naturally in soil, and that is a natural pathogen to the pests," he explained.
"The team discovered that a certain strain of the fungus, Metarhizium, is deadly to vine weevils and western flower thrips."
He said whether applied as a spray or premixed into growing medium such as peat or bark gave excellent control of the vine weevil larvae and thrips pupae.
"The success of the project is great, and will potentially change the nature of vine weevil and western flower thrips pest control," he added.
"The benefits are far reaching - not just for those with organic farms or nurseries but also for conventional growers."
The project was funded by the Department for Environment, Food and Rural Affairs (Defra).
It also involved a variety of partners from different sectors.
Metarhizium has now been registered in Europe with a bio-innovations business, who are looking to investigate its further potential, including controlling other insects.