Service depots aim to help Flintshire ambulance crews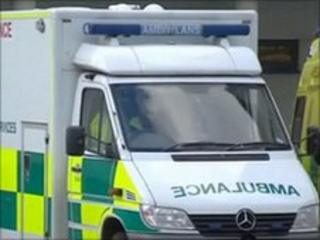 Almost £10m has been pledged to build two new ambulance service stations keeping paramedics on the road for longer in north Wales.
The depots, costing £12.8m, will clean, restock and repair the vehicles.
Announcing £9.8m funding, Health Minister Edwina Hart said it would mean more paramedics were available to answer emergency calls at any one time.
The deep-clean facilities would also help the fight against drug-resistant strains of bacteria, she said.
Currently ambulance crews are responsible for cleaning and stocking their own vehicles.
If they are called out to an incident where the ambulance is contaminated or which depletes their drug-supply, they can spend hours off the road before being ready again.
Under the proposals crews in Flintshire would drop off one ambulance and exchange it for one which had already been made ready for service by dedicated staff.
The assembly government said the stations, which would be shared with North Wales Police and the North Wales Fire and Rescue Service, could cut 3,000 hours a year off the time it takes to prepare an ambulance for service.
The Welsh Ambulance Service said the stations would be the first of their kind in Wales.
Mrs Hart said: "This investment will enable the ambulance service to introduce new and more appropriate facilities to improve frontline ambulance services in north Wales.
"This will free up time for paramedics to focus on responding to emergency calls.
"This will ultimately improve patient care and reduce pressures on ambulance crews.
"I am pleased that the ambulance service is working with other emergency services across north Wales on these proposals.
"This is in line with our Making the Connections agenda to join up public services and ensure value for money in our investments."