Crashed wall householders' safety call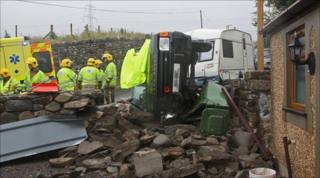 A resident has called for better safety measures after a fifth vehicle crashed into the garden wall of his Gwynedd home.
Alwyn Jones said his partner, Ffion Roberts, said the latest incident involved a 4x4 vehicle towing a caravan crashed into the wall.
Firefighters cut three people from the wreckage at Groeslon, but Mr Jones fears the next accident could be fatal.
Gwynedd council said it was waiting for the police report on the accident.
"I'm fed up with the whole thing and believe that unless something is done there could be a fatality," said Mr Jones, who says there have been accidents at the spot since he bought the property in 1998.
The garden wall has been damaged several times - five times seriously.
Road widening
"Tens of cars have hit the wall as they travel down the hill from Carmel," he said.
"They either swerve round to avoid parked vehicles, and then find someone coming towards them, or they simply drive too fast, brake too late and crash into my wall," he added.
Mr Jones said the council had spent £80,000 widening the carriageway, and building a retaining wall on the opposite side of the road from his house.
"The road was widened by about a foot, and a white line was put in the centre of the carriageway for the first time, but if anything though that has made it worse," he added.
Mr Jones said Ms Roberts had only just parked her car on the driveway and walked into the house when the crash happened on Sunday.
"It was a matter of 10 seconds," he said.
Casualties
"It gets more stressful every time this happens and I dread the next time."
Mr Jones said of the accidents that had happened there had been two significant ones.
"I'm dreading the day when someone does not get out," he said.
"I've written to the council several times and I'm hoping that something will finally be done," he added.
On Sunday, three people from the Nottingham area were helped out of the crashed Land Rover.
A spokesperson for the North Wales Fire and Rescue Service said the call came in at 1126 BST on Sunday.
"Two appliances were sent from Caernarfon and three casualties were cut out of the vehicle and taken to hospital by ambulance," the spokesperson added.
A Gwynedd Council spokesperson said the transportation and streetcare service was aware of the accident on Sunday.
"We are currently awaiting further information from North Wales Police about the circumstances of the accident, it would not be appropriate for us to comment further until we receive this report," the spokesperson added.