Call for calm over 'human hands' at osprey nest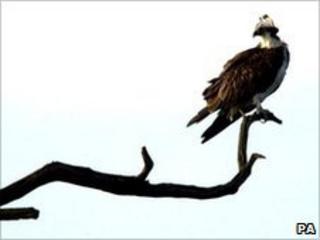 People watching an osprey's nest online have been urged not to panic if they see hands reach in front of the webcams.
Last year RSPB Scotland's Loch Garten switchboard "went bonkers" as people watching an osprey nest phoned in to warn its chicks were being stolen.
Staff had been trying to rid the nest of fishing line that threatened to entangle the young and their parents.
The satellite tags will allow the RSPB and public to track osprey migration.
Previous young have been tracked to Africa.
Images from the nest at Loch Garten, near Aviemore, are streamed on a dedicated website.
A blog gives online followers details on what they are seeing in the nest.
The latest entry warns that staff working under expert supervision will ring the site's three new chicks and fit satellite tags to two of them.
The blog reads: "Last year when we had that horrible fishing line incident, and had to act spontaneously, some of you got a bit spooked by the sudden unannounced appearance on camera of human hands in the nest.
"The office switchboard went bonkers as you phoned in to tell us someone was stealing our chicks.
"Thank you for that vigilance on our behalf, but this time rest assured if you see someone at the nest, it will again be us."
Last May, parent birds Odin and EJ became tangled up in fishing line before managing to rid themselves of it.
Odin - a male bird applauded by reserve staff for the amount of fish he brings to his mate and young - spent a night hanging from a tree before breaking free.