Knives bought in 'test purchases' in Bristol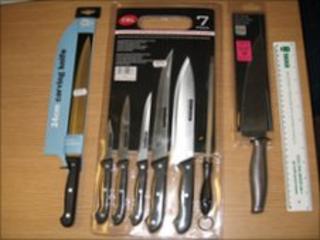 Shopkeepers in Bristol are being warned of the danger of selling knives to young people.
The warning comes after a 15-year-old who was "clearly under age" was able to purchase kitchen knives in a Trading Standards operation.
During the test the teenager was able to purchase the knives in three of seven shops visited.
"These are not pocket knives [but] potential weapons all capable of inflicting major injuries," he said.
Councillor Gary Hopkins, of Bristol City Council, added: "This is a disturbing result.
"We're urging shops to act responsibly and ask for proof of age for the sale of all age-restricted products.
"We will be in contact with the retailers and examining their systems to find out why this has happened."