Inquest into electricity death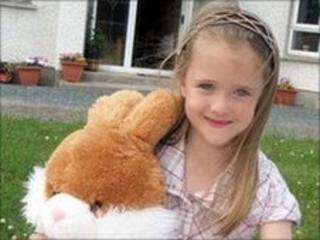 The chief coroner has said new laws surrounding the safety of electricity lines need to be considered.
John Lecky said he would raise the issue with the minister of enterprise, trade and investment following the inquest into the death of a six-year-old girl.
Tia Nagurski, from Londonderry, died last September after being electrocuted outside her home.
She had climbed to the top of a tree and grasped an electric cable.
The inquest heard the shock from the 11,000 volt overhead cable fatally disturbed her heart rhythm.
The pathologist who carried out the post mortem on Tia told the inquest that the circumstances of her death were "virtually unprecedented" in Northern Ireland.
Roy Coulter, safety risk officer with Northern Ireland Electricity, said that there had been no obvious risk that anyone would have been able to climb to the top of the tree and touch the cable.
He said as a result of the accident, NIE had made six recommendations which included doing more to educate children and their parents about the risks of electricity.
After the inquest, her parents, Brian and Natasha-Anne, said in a statement that they hoped that lessons could be learned from Tia's death.