South Africa's Eskom averts World Cup strike threat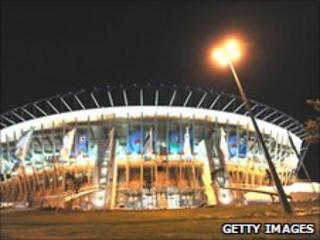 South African electricity company Eskom has averted a strike that could have caused black-outs during the World Cup.
The strike, which would have begun on Monday, was being called by the country's metalworkers' and miners' unions over a pay claim.
Eskom - the state-owned monopoly provider of electricity in South Africa - conceded a last-minute improvement in its pay offer from 8.5% to 9%.
The unions have also accepted their planned strike would have been illegal.
Inflation in South Africa is currently running at 4.6%.
In addition to the pay rise, Eskom also said it would pay a housing allowance of 1,500 rand ($94).
The unions had called for an allowance of 2,500 rand, but accepted that the company's offer was the best they could get.
Illegal action
Unions agreed that the strike would have been illegal, as electricity is considered an essential service under South African law.
"We think that it is a very serious offer, and ask our members to seriously review it," said Irvin Jim, general secretary for metalworkers' union.
"We are not in a position to support an illegal strike by workers," he added. "We therefore urge our members... not to engage in any unprotected strike action."
The strike by up to 30,000 Eskom employees would have embarrassed the country and could have affected television coverage of the World Cup semi-finals.
The unions had been outraged by Eskom's decision to spend some 12 million rand on tickets for the World Cup, which were made available to company executives and their families.
General strike
However, although electricity services now seem safe, the country still faces the possibility of a broader general strike this month.
Fourteen unions affiliated with the Congress of South African Trade Unions, representing 1.3 million workers, have threatened action.
Public sector employees, including nurses, police officers, teachers and immigration staff, have been offered a 6.5% pay rise, but want this upped to 8.5%.