'Hidden obscenity': Older men grooming teens for sex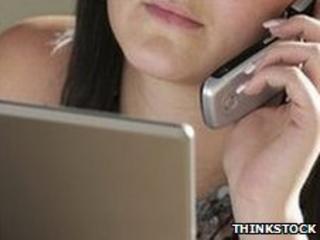 The public's image of a predatory paedophile typically involves a middle-aged man, glued to the internet or walking the streets, intent on finding victims.
But the work of Barnardo's with more than 1,000 young people who have suffered sexual exploitation reveals a more complicated threat, and one that closely reflects the society in which we live.
The charity invited the BBC to one of its women's projects, behind a nondescript entrance in a residential street in inner London.
The work done there is highly sensitive and we agreed not to reveal its location.
Lorena (not her real name) is 15.
She was sexually abused after meeting a man she had been in contact with online. She had been using the internet relatively unsupervised, from an early age - logging on to sites she describes as "for older people".
"They say come, come, you're beautiful - I want to see you. It's just words."
But she admits, she was "forced into a situation". She's understandably reluctant to say more.
But the damage done to young minds is obvious. "You feel like you don't want to exist any more," Lorena says.
Warning signs
Barnardo's is worried at the number of cases where older men deliberately target, encourage, coerce and then exploit young teenagers.
The charity's chief executive, Martin Narey, calls it "a hidden obscenity".
"There is an understandable tendency to believe this happens very rarely. In fact it's everywhere, in every town and city in the UK," he says.
"Professionals involved with children need to know the tell-tale signs. The earlier abuse is identified, the earlier we can stop it."
Barnardo's believes there are a number of warning signs that parents, teachers, social workers and police officers should be able to spot.
These include young people who disappear from school and home, the secretive use of mobile phones and the internet, unexplained gifts such as new clothes, jewellery, mobile phones or money, and drug and alcohol abuse.
Exploitation is in some way created by the conditions of society today, in that most at risk are young people already living tough lives - in particular, those in care, or from unstable families.
There is the "teenage factor" any parent will recognise.
Sexual exploitation is happening at the very point many victims are most vulnerable - during their transition from childhood to adulthood.
As Lorena puts it: "I just wanted to get out of the house, when I had issues with my mum. I wanted my own space."
'They take advantage'
For Louise, also 15, it was drinking that put her into danger.
"I thought I was a big girl... I was about 12, 13, and I was drinking. It was causing me trouble. I got sexually assaulted, under the influence of drink," she says.
This led to older men - late teens, deliberately targeting her.
"They take advantage of you. You're not in a stable situation so you're going to be all flirty and thinking 'yeah I'm getting boys' attention'. They take advantage of you because you're younger."
"They can tell you what you want to hear. They can tell you I'm going to buy you this, I'm going to buy you that. I'm going to be your prince charming."
Her friends, were unable to help because "they were drunk too".
The way in which technology has become part of young lives has also had an impact.
Louise says mobile phone numbers are freely passed around and she admits: "I gave my number to someone I shouldn't have."
There have been cases where abusers have given girls mobile phones, simply to keep them in touch.
These are not cases where the victims are in any way responsible for what happens to them.
Their age means, according to Barnardo's, "they cannot, legally consent to their own abuse".
Coercive
Child sexual exploitation covers a broad range of offences.
The Barnardo's case workers, who deal with dozens of abused girls, say they are concerned about the growing problem of gangs who encourage young girls to be members and then slowly move towards coercing them into organised sex, often involving a number of men.
In one case a young man was abused, as part of his membership of a drug gang, to enforce his lower position in the hierarchy.
Another concern is that abused women may be trafficked either around the UK or abroad.
The Home Office has stressed the importance of not using the phrase "child prostitution" in recognition of the coercive nature of the crimes.
Counsellors at centres around the UK are now dealing with the damage done to the young victims.
Louise says it has changed her and made her tougher: "I'm not so gullible any more. I used to believe anything anyone said. I'd rather have no friends, than friends that are just going to tread on you and treat you like crap."
She is, it's worth remembering, just 15.