Aberdeen drivers warned of roadworks disruption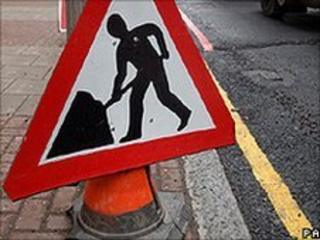 Motorists in Aberdeen have been warned to expect severe disruption on city centre roads this summer.
The council has asked drivers to avoid areas in and around Market Street for the next two months because of gas mains renewal.
Closures will also be in place on main roads into the city throughout July to repair damage caused by the north east's worst winter in 50 years.
A stretch of the northbound carriageway of Ellon Road will close from Saturday.
The £2.5m saved from the Marischal College development will help fund the improvements.
'Better period'
Mike Cheyne, head of roads at Aberdeen City Council, said there was no perfect time to start the work.
"In order to keep the traffic moving for the rest of the year we've got to carry out the work at this time, and obviously the summer is the better period for laying new road surfaces," he said.
"Looking at the number of people travelling during the July period, that's usually the minimum that we have using our roads.
"Therefore we try to get as much of the work done during that timescale."
Mr Cheyne said the extent of potholes and damage on the roads was the worst he had ever seen.
"The amount of roads that have potholes and damage is considerable," he said.
"Some of the roads wouldn't stand up to another winter like the last one."