Man jailed over Sussex hit-and-run killing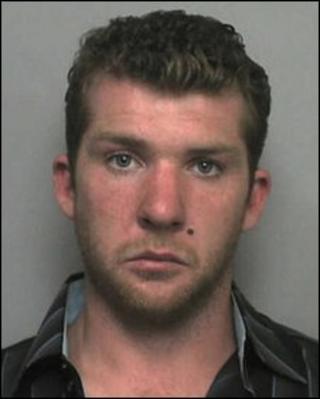 A man has been jailed for 11 years after admitting killing a 70-year-old woman in a hit-and-run.
Joanna Hakesley died in hospital after being struck by a stolen Mazda in Church Road, Copthorne, near Crawley, West Sussex, on 28 October 2009.
Leonard John Jones, of Rhodes Way, Crawley, previously pleaded guilty to manslaughter at Lewes Crown Court.
The 26-year-old, who was being followed by police at the time, fled the scene when officers went to aid Ms Hakesley.
He dumped the vehicle in an underpass beneath Gatwick Airport and escaped on foot.
Jones was arrested by police a few days later and again tried to escape. He was eventually captured after officers used a Taser gun.
Police chase
Sentencing, Judge Richard Brown said: "In your selfish attempt to avoid capture, you put innocent lives at risk and in that process killed Ms Hakesley who was quite properly going about her business.
"Having mowed her down, you continued to drive dangerously in your attempt to avoid capture."
During the trial, the court heard the car had been stolen from outside a house in Salfords, near Redhill, Surrey, the previous Saturday night.
It was eventually spotted days later by an off-duty police officer on the day of the collision.
By then, a warrant had been issued for Jones's arrest, because he had not attended court over a separate incident.
Helicopter footage
A dramatic police chase followed, in which the car was seen reaching speeds of 100mph, swerving across lanes, overtaking other cars on blind bends, and braking violently to avoid collisions.
Two police cars, both with sirens and blue lights, were ordered to stop chasing him because of the danger to other road users, while a helicopter continued monitoring him.
Footage taken from the helicopter showed the Mazda accelerating around a corner and hitting Ms Hakesley, causing her body to be thrown high into the air.
In mitigation, Elizabeth Marsh, defending, said: "He is a man who fully accepts what he has done and cannot put himself in the shoes of the family."
The court heard that Jones, who had a travelling background, had a "significant history" of offending including a number of driving offences, and his offending began after he moved with his family to a more stable home but could not adjust to his new life.
Jones was also banned from driving for eight years.
After the hearing, Det Ch Insp Trevor Bowles said Jones had a "dreadful and violent" criminal history.
He said: "His determination to avoid capture is at the heart of this case and he did everything possible to evade arrest.
"What Jones did that day was to disgracefully and criminally disregard the safety of the road users of Sussex.
"He has shown no remorse or regret, nor has he offered any explanation to Joanna's family for what he did."